This Classic 1960 Chevy Corvette of Tracy Grim required fiberglass repair and a complete paint job back to bring it to Showroom Condition. The entire job cost under $6,500! Watch what the high quality work involved in this Fiberglass repair and Paint video.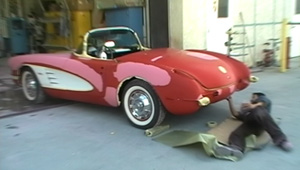 Doc Jay personally supervises all Corvette preparation and basecoat paint steps.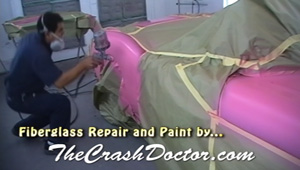 Dr. Jay uses a Pink Primer color when using Red Paint on Corvettes. The results are remarkable!

Classic Chevy 60 Vette - Fiberglass Paint and Repair Video Review!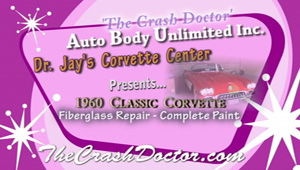 Doc Jay's Corvette Center works on all years of Corvettes from Classics to Angelyne's newest 2008 Pink Vette. The Doc only uses the highest quality paints, equipment and workmanship.. Corvette owners don't take their Vettes to just any body shop, they come from all over California to Dr. Jay's Specialized Corvette Center in Simi Valley, CA.
They realize, it's well worth it!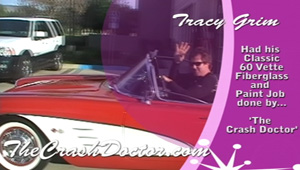 This 60 Vette looked better than when it was brand new after leaving Doc Jay's Vette Center.
.

1960 Corvette Fiberglass Repair-Paint
Paint and Fiberglass Repair Video by Dr. Jay
1960 brought the 2nd generation body style change
for the Corvette. The Style changed in 1963 When Corvette introduced the New 'Stingray!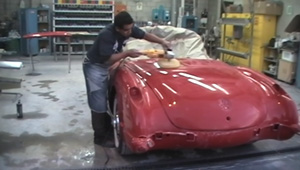 Auto Body Unlimited Inc. is fast becoming the most popular Corvette Center in Southern California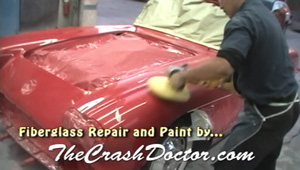 The Crash Doctor 'Doc Jay', only uses the finest high quality paints, technology and fiberglass procedures on all Corvette Repairs and Classic Restoration jobs.