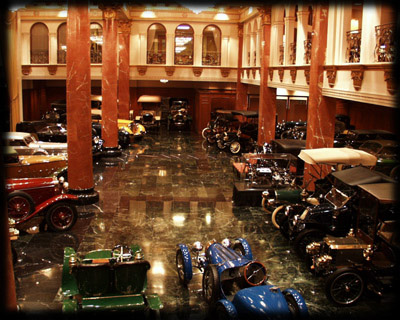 The J.B. Nethercutt Collection at San Sylmar in Sylmar, California is an outstanding display of dedication and passion for "functional fine art". Beyond the realm of the automobile, the collection houses superb examples of original antique furniture, and a colossal display of automatic and reproducing musical instruments.The focus here is the automotive collection which spans over 200 cars. Although currently, only 30 incredible cars are displayed at a time. That's the bad news. The good news is a new, larger museum is currently under way and will house the entire collection for viewing. To fully appreciate the wonder that is San Sylmar I highly suggest calling the Museum staff at 1(818)367-2251 to schedule your free tour. Due to numerous requests, here is the museum street address: 15200 Bledsoe Street, Sylmar, California 91342. You will not be disappointed, only amazed.
San Sylmar is located in the foothills of the San Gabriel Mountains in Southern California, just north of Los Angeles.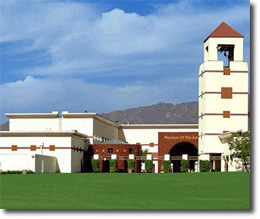 Autry National Center

Features America's Western heritage at the Valley's ode to the Wild West, both situated in historic Griffith Park in the Southeast Valley. The Autry Museum houses over 41,000 artifacts and fine arts and pays homage to the American West -- from its Native American roots to its pioneering past and the romance created by Hollywood.

4700 Western Heritage Way
Los Angeles, CA
(located in Griffith Park)
323-667-2000
Home of the 2016 Republican Presidential Debates hosted by CNN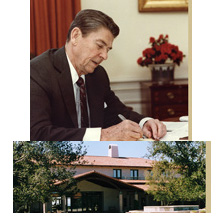 The Ronald Reagan Presidential Library and Museum
40 Presidential Drive
Simi Valley, California 93065
Main Phone: 800-410-8354 or 805-577-4000
Fax: 805-577-4074
Email: Reagan.library@nara.gov
The Ronald Reagan Presidential Foundation
"The doors of this library are open now and all are welcome. The judgment of history is left to you, the people." —Ronald Reagan, Remarks at the Ronald Reagan Presidential Library Dedication
(November 4, 1991)
Artifacts from President Reagan's childhood and professional career provide physical evidence of his extraordinary life. Step through a model of the Dixon Arch in Illinois to experience Reagan's youth, while his Eureka College letter sweater recalls his student years. A recreated studio booth highlights his early radio broadcasting career, which led to an acting contract with Warner Bros. Film clips. Original costumes and movie posters trace his days in the movies, the Screen Actors Guild, and on television, as host of GE Theater and Death Valley Days. Glimpse into Ronald and Nancy Reagan's devoted marriage, a love story straight out of a Hollywood script. Learn about Reagan's growing involvement in politics. Witness his presidency, from reviving the economy, reducing the size of the federal government, and ending the threat of nuclear war. See a piece of the Berlin Wall, immerse yourself in Camp David and Rancho del Cielo. And, in 2005, walk through the Air Force One that President Reagan used throughout his eight years in office.
Also:
Check out TheCrashDoctor.com Insurance Deductible Financing and Free Loan Car Plans.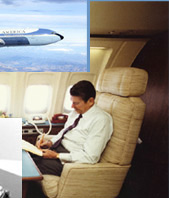 Air Force One Pavilion
Upon leaving office, President Reagan stated that one day he hoped he would be able to share Air Force One with the American people by placing it at his Presidential Library. That dream to have this magnificent aircraft here at his Library has finally come true. We are privileged to have this national treasure and honored by the trust the United States Air Force has placed in us to share it with the American people. The new Air Force One Pavilion, which opened on October 24, 2005, celebrates President Reagan's vision and tells the story of his staggering achievements.
Visitors to the Reagan Library will be able to board the Air Force One that served as the "Flying White House," for President Reagan and six other U.S. presidents from 1973-2001. The new Air Force One Pavilion celebrates President Reagan's vision of face-to-face diplomacy and tells the story of his achievements in promoting peace and democracy around the globe. In addition to Air Force One, the Pavilion includes a Johnson-era Marine One and a Presidential motorcade featuring President Reagan's 1984 parade limousine.
40 Presidential Drive
Simi Valley, California 93065
Main Phone: 800-410-8354 or 805-577-4000
Fax: 805-577-4074
Email: Reagan.library@nara.gov
Great places to sightsee and take the family. While you're out and about stop in on Jay and say hi, the coffee and donuts are on him.