Increase Fuel Economy with Reduced Emissions in a Windshield?

We'll bet you haven't heard that one. Dr. Jay is constantly seeking the Finest Parts and OEM Products for your Repairs and now as a Safelite Dealer using the high quality Glass from PGW Dr. Jay offers many options for your car.
Here's how it works:

WeatherMaster's unique coating properties reflect as much as 60 percent of the sun's infrared energy (the sun's heat-carrying rays), 10 times that of a conventional windshield. The result? The passenger compartment stays cooler—up to 15°F (8.3°C) cooler compared with a conventional windshield. And, with cooler interior temperatures on a hot day, the air conditioner can cool the inside faster with less load on the compressor. More efficient cooling means improved fuel economy and reduced vehicle emissions.

Also ask about Laminated Glass: the Feature of the Future.

Consumer expectations of new vehicles have never been higher. In this competitive market, a single desirable feature can sway a purchasing decision – and demand for laminated automotive glass is growing. In a recent survey by JD Power and Associates, laminated door glass ranked second only to flat-run tires in a list of emerging technologies receiving strong consumer interest.

The Crash Doctor
'Your One Stop Center for all of your Auto Glass Replacement Needs!'

WeatherMaster™— A heated windshield that will keep you cool? That's right!



Just one of many reasons to see Dr. Jay 1st before getting your auto glass installed from anyone else.





WeatherMaster™ windshield is manufactured with patented technology that can melt ice and snow, prevent the build-up of condensation and keep the sun's energy out of the vehicle's interior for a safer, more comfortable ride.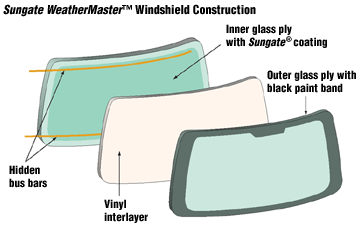 How the heated windshield works
The WeatherMaster™ windshield has a transparent multi-layer metallic coating applied to one of the glass plies in the laminate. Electrical connectors attached to the upper and lower glass edges are not visible after installation. When the connectors are activated by the vehicle's electrical system, current flows through the coating, which acts as a transparent resistor, heating up the glass surface
(800) 679-4848

Here are just a few Benefits of the WeatherMaster™ windshield:


Allows glass to stay heated, eliminating
re-frosting of the windshield.

Prevents fog and condensation from accumulating on the surface in all driving conditions, particularly during heavy rain.

Allows glass surface to clear faster and
more uniformly, and remain clear, improving visibility for the driver.

Reduces noise by eliminating the need to operate the air blower at high speed for windshield clearing.

Improves fuel economy by reducing the air conditioner load.

Lowers passenger compartment
temperature by reducing solar energy transmittance.

Increases longevity of interior
materials by lowering the passenger compartment temperature.
Highly Competitive Pricing

Not only is The Crash Doctor's Windshield and Glass Replacment affordable but Dr. Jay offers much more in the way of options.

Call Dr. Jay today for a quote on your Auto, Truck, RV or Motorhome