"The Crash Doctor"
(800)-679-4848
 
High Quality Paint Jobs!
Call Jay today and schedule an appointment for to bring your car back to New Condition with his affordable Factory Paint
Job!
Auto Body Unlimited Inc. is shocking the world with a New program! Complete Factory Paint Jobs starting at $2500!
Serving: Simi Valley, Chatsworth, Agoura Hills, Moorpark, Woodland Hills, Encino, West Lake Village, San Fernando Valley and Beyond!...
Testimonial:

Hi Jay:

"Thanks for sending me those pictures. I just got out of a meeting and I've been showing them to everyone who walks by my office. It looks like a brand new car! It's gorgeous. I can hardly wait to see it in person.

Please allow me to again express my appreciation to you and your crew. This is very rough holiday season for all of us, especially Alex. This is the one thing he's been happy and excited about. A rough paint job from Earl Scheib would have been pretty anti-climactic. I think Alex will be bowled over when he sees the car this evening.

So, thank you again, and Merry Christmas."

Debbie G.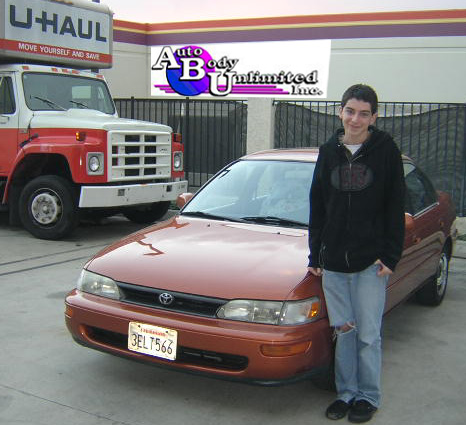 A Happy Customer after picking up their 1993 Toyota Corolla with a New Complete Factry Finish Paint Job from Dr. J!
Collision Repair - Cars, Trucks, SUV's, Luxury Cars, Classics and More!
Paint and Repair all makes-all models cars and medium duty Trucks
Paint-Match Guarantee
Highest Quality Paints Top Professional work from an ICar Gold Auto Body Paint Center