This 2010 Ford F150 Platinum Truck was damaged when another vehicle forced it into the curb. So Eddie brought his prized truck into Dr. Jay immediately for a Checkup and Repair and Paint treatment.


Everything from complete exterior to interior restoration was needed.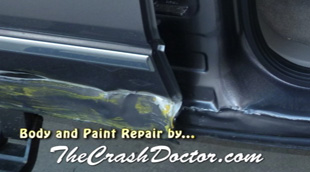 Dr. Jay took special attention to the details on this right side repair job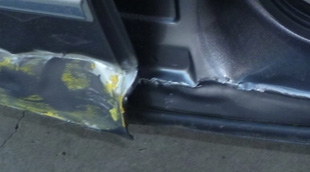 The side and runners all required complete repair and painting. This involved clear coating and precise color matching techniques using the latest high quality waterborne paints

Many parts had to be removed as well as others requiring replacement, including moldings, tail light, even electrical work was necessary.

If you're looking for a one-stop body shop in Simi Valley, then come to Dr. Jay's Auto Body Unlimited Inc. on Los Angeles street.

The Crash Doctor is the Premiere Auto Body Collision Repair Center in the Simi Valley area, contact Dr. Jay today and bring your Truck into The Crash Doctor for a Check up!

(800) 679-4848


4610 E. Los Angeles Ave. Simi Valley, CA 93063






Watch the 2010 Ford F150 Platinum Truck Repair and Paint of Eddie Amado, who owns a El Patio Mexican Restaurant in Simi Valley.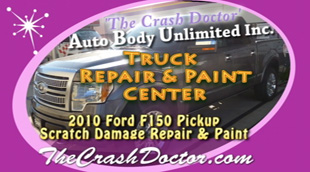 Auto Body Unlimited Inc. had to do replacement, removal and repair, color matching and much more on Eddies 2010 Ford F15 0 Platinum Series Truck.
__________

History of Ford Trucks
Ford F Series Truck Design Background
The F-Series is a series of full-size pickup trucks from Ford Motor Company sold for over six decades.

Twelfth generation (2009–present)
Twelfth generation
Also called Ford Lobo (Mexico)
Lincoln Mark LT (Platinum Version, Mexico)
Ford F-250 (Venezuela)
Production 2008–present
Assembly Dearborn, Michigan, USA
Kansas City, Missouri, USA
Valencia, Venezuela
Cuautitlan, Mexico
Body style 2-door pickup
4-door pickup
Platform Ford P2 platform
Engine 3.5 L EcoBoost V6
3.7 L Cyclone V6
4.6 L (281 CID) 2V V8
4.6 L (281 CID) 3V V8
5.0 L (302 CID) Coyote V8
5.4 L (330 CID) 3V V8
6.2 L (379 CID) 2V V8
Transmission 4-speed automatic
6-speed automatic
Wheelbase 126 in (3,200 mm) (short bed)
144.5 in (3,670 mm) (long bed)
163 in (4,140 mm) (ext. cab, 8' bed)
138.5 in (3,518 mm) (Crew Cab)
Length
Regular Cab Short Bed: 211.2 in (5,364 mm) Regular & Extended Cab Long Bed: 229.8 in (5,837 mm) Extended Cab Short Bed: 217.8 in (5,532 mm) Extended Cab 8' Bed: 248.4 in (6,309 mm)
Crew Cab: 223.8 in (5,685 mm)
Width 78.9 in
Height 73.5–76.5 in (1,867–1,943 mm)

Eddies Platinum Ford F150 looked like it came off the showroom floor after Dr. Jay finished the job!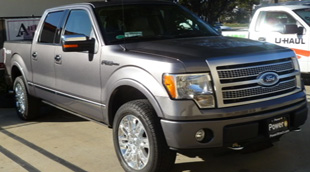 Careful attention was made to color match and blending of the various parts.

Auto Body Unlimited Inc. is fast becoming the most popular Pickup truck and Paint Center in Simi Valley, California.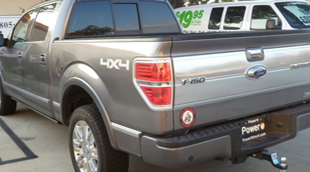 The Crash Doctor 'Doc Jay', only uses the finest high quality paints and technology in all of his Repairs and Classic Restoration jobs alike.
Ford revealed the next generation 2009 F-150 design at the North American International Auto
Show in January, 2008. Production of the series began in October 2008 at Ford's Kansas City Assembly Plant.[35] The truck features a larger and more flexible interior, an updated three-bar grille, and additional choices of cab styles and trim levels. The chassis includes lighter-weight, high-strength steel for better fuel economy and safety and improved payload and towing capacity.


(800) 679-4848