This 1962 Classic Ford F100 restoration and paint job went through considerably detailing from Dr. Jay to bring this Classic Truck to Award Winning condition.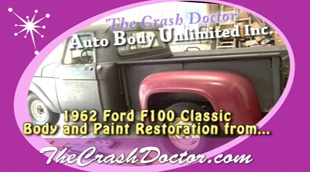 Everything from complete exterior to interior restoration was needed.

Dr. Jay is an expert at restoring Classic Automobiles that have extensive Rust Damage as in the photos below: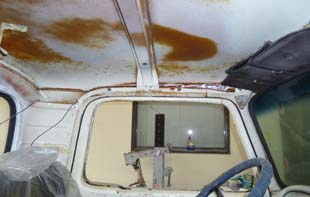 The roof of the cab required extensive Rust Remedation and Restoration.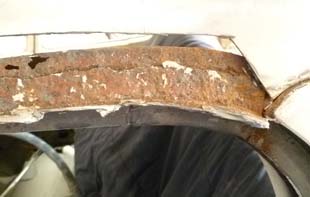 Many body shops would resist even trying to restore an automobile with this much Rust.

Doc Jay personally oversees all areas from prep to final finish with special detail to all procedures in between.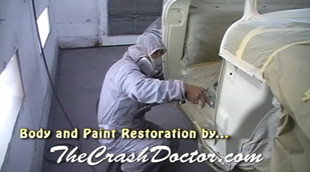 Rust repair inside and out was required with no detail left un-noticed by Dr. Jay's team of staff auto body specialists.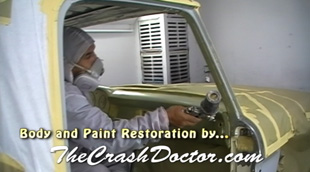 Everything on the interiror required special attention from the dash to the ash tray and glove compartment areas for that Award Winning look.

All parts of this classic truck were gone over in great detail. Restoration jobs on classic automobiles can take time, especially when trying to locate original parts or repairing parts not available but Dr. Jay wastes no time in completing each job and it's well worth it.



Watch the Classic Ford F100 Pickup Repair, Restoration and Paint Video Review of Geoff Williams!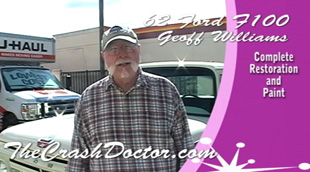 Auto Body Unlimited Inc. did a complete restoration including painting inside the cab, replace exhaust, painting frame, cut & welding patches for all rust, completely stripped the car to down to the metal and included the use of etching primer, then urethane primer (spies hecker) then blocked and painted car with clear coat all using Dupont Spies Hecker paint for a Showroom new condition.
"The results came out better than I expected"... Geoff Williams

History of the Ford F Series Truck Details
Fourth generation



Production 1961–1966
Assembly Cuautitlan, Mexico
Dearborn, Michigan, USA
Edison, New Jersey, USA
Kansas City, Missouri, USA
Long Beach, California, USA
Norfolk, Virginia, USA
St. Paul, Minnesota, USA
St. Louis, Missouri, USA
General Pacheco, Argentina
Hapeville, Georgia, USA
Louisville, Kentucky, USA
San Jose, California, USA
Wayne, Michigan, USA
Lorain, Ohio, USA
Oakville, Ontario, Canada
Body style 2-door pickup
4-door pickup
Engine 223 CID (3.7 L) I6
292 CID (4.8 L) Y-block V8
240 CID (3.9 L) I6
300 CID (4.9 L) I6
352 CID (5.8 L) FE V8


F-100 (F10, F11, F14): 1/2 ton (4,000–5,000 GVWR max)
F-100 (F18, F19)(4×4): 1/2 ton (4,000–5,600 GVWR max)
F-250 (F25): 3/4 ton (7,400 GVWR max)
F-250 (F26)(4×4): 3/4 ton (4,900 GVWR max)
F-350 (F35): 1 ton (9,800 GVWR max)Engines: Note: HP in Net HP


Engine Years Power
223 CID Mileage Maker I6 1961–64 114 hp (85 kW)
262 CID Mileage Maker I6 1961–64 132 hp (98 kW)
292 CID Y-block V8 1961–64 135 hp (101 kW)
240 CID Straight-6 1965–66 150 hp (110 kW)
300 CID Straight-6 1965–66 170 hp (130 kW)
352 CID FE V8 1965–66 172 hp (128 kW)



Geoff's 62 F100 looked like it was driven right off the Showroom floor after a complete Restoration job!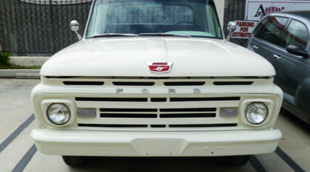 Geoff and Barbara Williams of Simi Valley didn't recognize their truck when Dr. Jay finished it.

Auto Body Unlimited Inc. is fast becoming the most popular Classic Truck Restoration and Paint Center in California. Geoff and Barbara's Classic Ford is an example of what you can do with your classic sitting in your yard.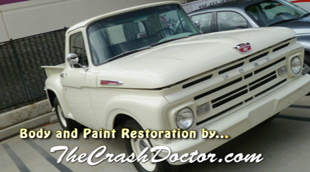 The Crash Doctor 'Doc Jay', only uses the finest high quality paints, technology and fiberglasst procedures on all Corvette Repairs and Classic Restoration jobs.
Ford F Series Truck Design Background

The F-Series is a series of full-size pickup trucks from Ford Motor Company sold for over six decades.
The truck was completely redesigned for 1961 with a wider look, and unibody trucks were available, built with an integrated cab and box, from 1961–63. From 1964 on, only the traditional separate cab and bed arrangement were available. Power was over 200 hp (150 kW) with the 1965 update of the powertrain. In 1965, the Twin I-Beam front suspension was introduced with coil springs and the 300 replaced the 223. 1965 also marked the beginning of a completely different chassis and many parts from 65-79 interchange such as brakes and motor mounts. The 1965 and 1966 trucks have a "TWIN I-BEAM" emblem on the front fender. A 4-door crew cab version was also introduced in 1965, still a popular option.Ford still offered a "Low GVWR" version of each model.The Camper Special was built heavier for the slide in campers that were becoming increasingly popular during this time.In 1965, the name "Ranger" is first introduced as a styling package for the F-Series pickup trucks using mustang bucket seats and a curtain over the gas tank. Then later (1982) the name Ranger is used for Ford's compact series trucks; an entry in the mini-pickup segment. It went on to become the top-selling compact pickup in the American market.In 1965, the 300-cubic inch (4.9 L) straight six was introduced (a larger version of the 240-cubic inch Six). It had 7 main bearings and timing gears (no chain or belt).Models:'
No matter where you live, contact Dr. Jay, 'The Crash Doctor' for your classic restoration need. Dr. Jay will even help you arrange shipping to and from the Auto Body Unlimited Inc location. Dr. Jay has clients from all over Southern California so give the Doc a Call Today!



(800) 679-4848