2008 Winnebago Journey Motorhome
Fiberglass, scratch, dent, damage repair and Paint Job from Dr. Jay
Being one of only two 20 year I-Car Gold Body Shops in the United States. Auto Body Unlimited Inc 'The Crash Doctor' is California's RV and Motorhome Body and Paint Center is the obvious place to bring your RV or Motorhome for body repairs and paint, even pin striping and fiberglass.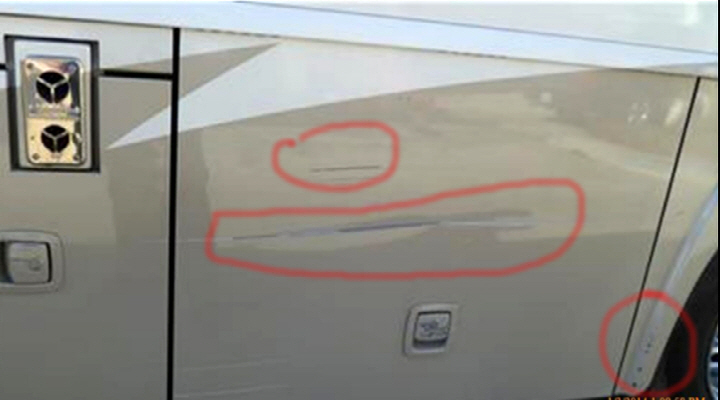 Close-up of partial damage

This 08 Winnebago Motorhome required significant fiberglass repair work to correct the damage on the corner panels. Being the Corvette Center in Californi for Fiberglass repair and high quality Award winning paint jobs, the staff at Dr. Jay's is well versed in extensive fiberglass reapir techniques.

The repair shown in the photo above requjired extensive fiberglass repair and color matching

*Helpful Motorhome Tip
Lower Fenders that are hard to see are often areas of damage in larger Motorhomes. The installation of strategic larger mirrors in various places can assist wit this problem.

Scratches, body repairs and dent damage are not the only problem.. Ensuring a perfect blending and color matching in connecting areas comes from the professionalism in Dr. Jay's precision color matching techniques where all areas are strategically and carefully blended so you can't tell where the actual damage was.

_____________________

Auto Body Unlimited Inc. is Centrally located to many areas of California and provides Body and Paint services not found at very many standard auto body shops in the country.


Road Bear RV Rentals and Sales
Rely on Dr. Jay - So Can YOU!



(800) 679-4848




4610 E. Los Angeles Ave. Simi Valley, CA 93063

Once a Dr. Jay patient, you'll never look anywhere esle. Dr. Jay has fast become the Southern California Motorhome and RV body and paint Center. Watch the Video and see how Doc made this 2008 Winnebago look like it came off the showroom floor again!!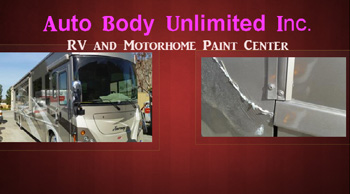 When Dr. Jay gets done with his repairs and paint it would be hard pressed to discern where the dmage started and where it stopped, many have tried but to no avail. They all fail the Dr. Jay Challenge test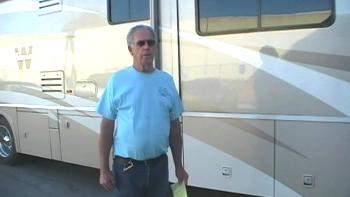 Bil and Margaret Zoewetewy, owners of Arms Printing in
Simi Valley and, long time customer of Dr. Jay,
give a Review in this repair video

Dr. Jay's Skilled Paint and Refinish technicians carefully refinish with color
match and blending techniques to provide
the unblemished final result you see here



After Dr. Jay's scratch and damage repair and paint refinish
this large size Motorhome from Road Bear was ready
to show off and Rent once again

Dr. Jay's highly skilled recreation vehicle and motorhome technicians inspect all around this large motorhome to check
for any needed repair. Dr. Jay personally oversees all work performed to ensure that all areas are carefully attended to in the precision manner of his hard earned 20 year I-CAR Gold Class status.


For Fast, Reliable and High Quality Collision Repair and Paint needs of all kinds bring Contact Dr. Jay
_______________



Here is just a partial list of some of the Repairs needed on this 08 Winnebago.


Right Side Panel Rear Lower Discoloration and Cracks

3 Rear Cargo Doors

Left Slider Corner Molding Rear Lower

Rear Panel Rt - Upper and Lower

Journey Emblem

Right Rear Corner Molding

Ladder Roof Access

Clearance Lamps Upper - Lower

Fiberglass Repair



Precise Color Matching 3 x

Color Sand and Buffing

and More!


If You're in the market to Rent or Buy a New or Used RV or Motorhome give Road Bear a call and tell them Dr. Jay sent you!

________________

If your RV or Motorhome Rental Dealership would like to discuss having Auto Body Unlimited Inc. take care of all of your damage, paint and pin striping give Dr. Jay a call Direct.

(800) 679-4848






Dr. Jay has a Long Standing History of Award Winning Restorations and Paint Jobs!


Visit Auto Body Unlimited Inc.
RV and Motorhome
Body Repair - Paint and Pin Striping Center