Our Vast Array of Features!
Free Estimates
All Cars and Trucks
Best Auto Body Paint shop! 
GlobalVizion Timelapse Videos
Check out a New Review and Get a Free Quote!
Custom Paint Jobs
Car-o-Liner and Chief EZ Framing
All Makes All Models
Glass repair
Interior work
Computerized Estimating System
Complete Muffler Shop
*All
Major Insurance Companies
and
Direct Repair with Kemper, ANPAC,
MetLife Auto & Home, Kemper,
Nobilas, GSA and Innovation Insurance Company
*New Muffler Shop
"Ok Staff, Study
this good!"

TheCrashDoctor.com
Staff Meeting!

Great Quality and Customer Service = key perscriptions to be assured of a successful future.

Next Meeting:
Corvette Fiberglass
Paint and Body work
Use the Finest Quality Paints and get the Finest Quality Auto Body Repair job!
*Spies Hecker Paint
Paint Systems for Generations

Special: Insurance Deductible Financing Plan!

Auto Body Unlimited Inc. "The Crash Doctor" 4610 E. Los Angeles Avenue Simi Valley, CA 93063
(805) 583-4848
Toll Free (800) 679-4848 Fax (805) 583-2918
We work on everything from luxury and Classic Cars to Trucks! Custom Paint jobs to complete Restoration!

Free Auto Body Collision Repair
QUOTE

Watch a real Consumer Review
Testimonial from John Richardson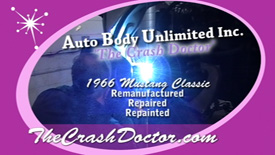 Classic 1966 Mustang
Repair, Repaint and
Restoration job. Watch the Video